Travel Greece in the Footsteps of Odysseus with Peter de Kuster
A Homeric Journey into the Power of Your Story: Your Heroes and Heroines, Your Gods and Goddesses
October 4 – 15, 2021
Join author-storyteller-mythologist Peter de Kuster on a journey to ancient Greece to visit many of the significant sites associated with two of Homer's greatest heroes, Odysseus and Penelope.
We will travel across the "wine-dark sea" to the world immortalized by Homer in the Odyssey, with a special emphasis on recent scholarship, archaeology, and a spate of extraordinary new translations, which gives long overdue attention to Penelope, Circe, and Calypso, Athena, Aphrodite, and Hera. We will visit sites such as the Corinth Canal, the citadel of Mycenae, Menelaion near Sparta, Kranai islet, Ancient Olympia, the mythic island of Ithaka, and Corfu (ancient Phaecia), as well as engage in lively discussions and "Long Conversations."
Take a journey 3,000 years back in time to the roots of classical Greece and forward to the modern Mediterranean of magnificent land and seascapes, splendid museums, and sublime cuisine.
This carefully and lovingly designed tour is the result of Peter de Kuster's lifelong fascination with the Odyssey, and aims to combine visits to sites associated with Homer's epic with readings and discussions that explore the too-long-neglected roles in the epic played by Penelope, Circe, Calypso, Nausicaa, Athena, and Aphrodite.
Our pilgrimage to Homeric Greece will be augmented by Peter's innovative style of  "The Hero's Journey" Each day will also be highlighted by talks and group discussions that evoke the spell of arguably the most influential story in Western civilization and what it tells you about the Power of Your Story.
Our journey will begin in Athens with a welcome drink at our hotel and dinner at a traditional Greek tavern in the vibrant Plaka neighbourhood. We then visit the citadel of Corinth, long associated with King Sisyphus, her school of navigation, and the famous canal, which connects the Greek mainland with the Peloponnesus. Nearby are the ruins of Ancient Sparta, where Odysseus' son Telemachus ventured to find news about his father from King Menelaus. We will also visit the Menelaion, a sanctuary that encouraged the worship of Menelaus and Helen into late antiquity, and the beautiful seaport of Kranai, from where, according to the poets, Helen and Paris left for Troy. Over a wonderful portside lunch, we will read from several different accounts of the infamous abduction, which ignited the Trojan War.
At Olympia we will learn about the relationship between athletics and spirituality, and the parallels between training for war and sports. Our visit to the melancholic beauty of this ancient site is designed to help us understand the significance of Homer's vivid description in the Odyssey of the Funeral Games for Patroclus, often regarded as the first instance of sports writing in history.
From the seaport town of Patras, we take the ferry to "rocky, low-lying, mountainous" Ithaka, as Homer described the home of King Odysseus and Queen Penelope. During our three marvel-filled days on this mythic island we will visit what locals call "Homer's School," the ruins of a mighty Mycenean palace long associated with Odysseus and Penelope; the Loizas Cave, where fascinating artefacts have been uncovered; the Cave of the Nymphs, where Odysseus is believed to have hidden the gifts given to him by the Phaeacians; and the Archaeological Museum of Stavros. Every morning on the island we will read passages from several different translations, ranging from Alexander Pope to Robert Fitzgerald and Emily Watson, as well as poems and stories associated with the island.
After our stay on Ithaka, we continue to Ammoudia, the mouth of the River Acheron, where, according to legend, Odysseus took Circe's advice and descended into the Underworld to meet with the soothsayer Tiresias. Nearby is one of the least visited and most mysterious sites in Greece, the Nekromanteion, the Temple of the Dead, where Persephone and Hades were worshipped, and pilgrims were led by a priestess through subterranean chambers to experience their own death and rebirth.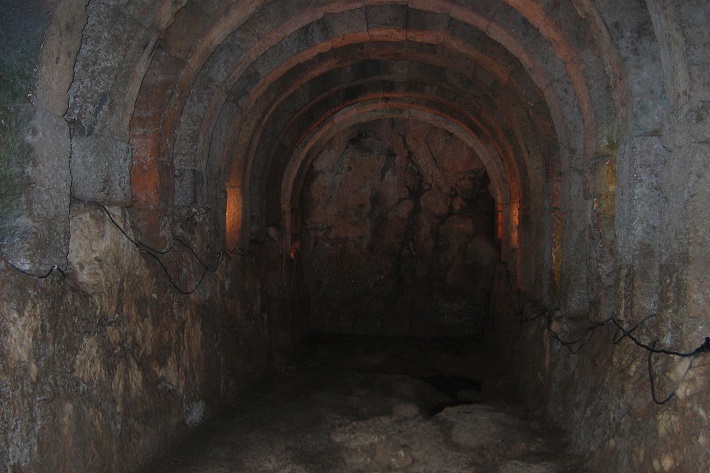 The final stop of our own odyssey will be Corfu, the Homeric island of Scheria, Island of the mythical Phaeacians, those magical masters of the sea, and the last stop for Odysseus on his long and winding way back home to Ithaka. We will visit the Palaiokastritsa Beach, where the shipwrecked Odysseus was rescued by the princess Naussica, who escorted him to the palace of her parents, the hospitable King Alkinoos and Queen Arete, who built a magical ship for the final leg of our hero's journey back to Ithaka.
We welcome you to join us on this journey to connect with the mythic power of the ancient gods and goddesses, heroes and monsters, as rendered by Homer, the Blind Bard of Samos, and be graced with all the magic and haunting beauty this mythic world has to offer.
Travel Greece in the Footsteps of Odysseus with Peter de Kuster
October 4 – 15, 2021
Tour Includes:
11 nights' accommodation in 3* and 4* star hotels based on double/shared occupancy
Breakfast daily, 5 lunches
6 dinners, incl. Welcome Dinner & Farewell Dinner
Arrival and departure transfers
Transportation by deluxe A/C private coach
Admission to all sites as per itinerary
Ferry tickets Patras to Ithaca, Ithaca to Astakos & Igoumenitsa to Corfu
Local boat ride from Palaiokastritsa Beach to "Nausicaa's Cave" (weather dependent)
Added Features:
Travel with author, storyteller Peter de Kuster
Insightful group discussions and "The Hero Journey Conversations"
Escorted tour of the Paleokastritsa in Corfu
Local English-speaking guide in Olympia
Guide from the Odyssean Studies Center in Ithaka
Visits to ancient sites associated with Homer's the Odyssey
Group readings of poems, stories and passages associated with the sites we visit
Tour Does Not Include:
Airfare to Athens and return from Corfu
Cancellation & Medical Insurance (ask us for a quote)
Meals and drinks not specified
Cost to obtain valid passport
Tips and gratuities to guides, drivers, hotel staff
Any items of a personal nature such as laundry, drinks and telephone calls. Any item that is not specifically detailed on our website or in the final retreat itinerary
Tour Price:
Double Room:

Euro 4.895 excluding VAT

per person

Single Supplement:

Euro 9

95 excluding VAT 
About Peter de Kuster
Peter de Kuster is the founder of The Heroine's Journey & Hero's Journey project,  a storytelling firm which helps creative professionals to create careers and lives based on whatever story is most integral to their lives and careers (values, traits, skills and experiences). Peter's approach combines in-depth storytelling and marketing expertise, and for over 20 years clients have found it effective with a wide range of creative business issues.
Peter is writer of the series The Heroine's Journey and Hero's Journey books, he has an MBA in Marketing,  MBA in Financial Economics and graduated at university in Sociology and Communication Sciences.
Book your journey
We are excited to help you plan an unforgettable journey. Please complete the online Registration Form below and we will be in touch shortly.